Production System
Overall Production Strength and Technical Strength -
Consistent System of Research, Development and Production
"An Achievement of Synergistic Strength"- Unification of Research,
Development and Production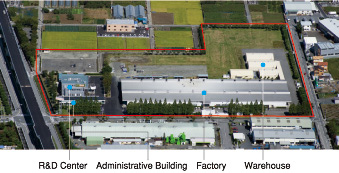 The Minami Alps Factory located in southern part of Yamanashi Prefecture develops and produces scientific instruments, research facilities, analytical / measuring instruments, industrial inspection devices and medical devices. The results of these facilities are offered to universities and public agencies, including domestic and foreign private companies, and thus contribute to further innovation of research, development and manufacturing technologies.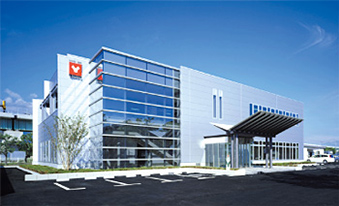 R&D center enhances our manufacturing strength. Our avid researchers facilitate the development of new products in a highly effective environment. The center has an testing room equipped with the most advanced evaluation devices. Those facilities can obtain various test data from new products and customers can quantitatively observe the product capabilities. We can provide various technical training programs and product seminars for effective engineering skills and sales enhancement.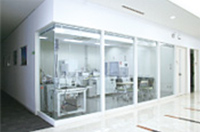 Plasma Laboratory
This laboratory develops plasma technologies and is equipped with various plasma machines as well as evaluation and measuring instruments, where customers can quantitatively obtain the data of customer's sample such as contact angle or surface roughness.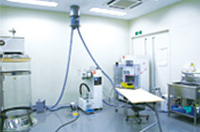 Spray Dry Laboratory
We take all accepted various samples, like food, organic chemistry, or inorganic chemistry and will measure the particle size and recover rate after powderization.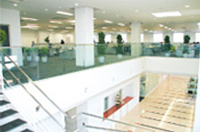 Lobby and Design Floor
The place is called Yamato's "Scientific Brain" and is an effective use of 16,759 square feet.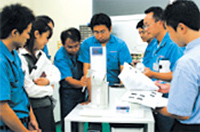 Trial Room (Exam and evaluate every manufactured instrument)
Each new product goes through various evaluations and environmental testing using the latest technology. In addition, the latest in air flow management is used in examinations to test wind velocity, air current, and leakage based on the standards put forth in the American Society of Heating, Refrigerating and Air-Conditioning Engineers (ASHRAE).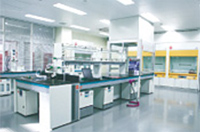 Fume Hood and Air Conditioner System Evaluation Laboratory
At this laboratory, we reproduce air-control systems in a Fume Hood as well as the entire laboratory in order to confirm certain enclosures for the appropriate air pressure and exhaust. Additionally, it functions as the showroom for the whole laboratory.
The Advanced Technology Development Center develops future innovative technology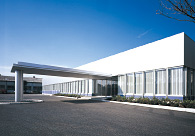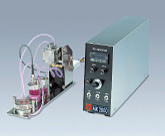 Cell culture In-vitro
Vascular Simulator
This center is a foothold of research and develops analytical equipment based upon the most recent research held by university and research institute collaboration. Recently, we succeeded in reproducing near-to-life environmental conditions so that we were able to develop "Dynamic Co-culture System (Vascular Wall Cell Co-culture)" that produces the environment of a pseudo-blood vessel. We also successfully manufactured a "Geno-pattern Analyzer (gene waveform analyzer)" which rapidly and easily analyzes microbes at the gene level.
High Quality and High Speed. Yamato Scientific's Manufacturing Power. High Production Capacity and Cell Production Methods with Flexible Line Structures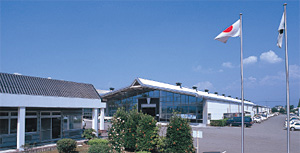 The factory at full length is 150 meters, contains equipment lines necessary for metal plate processing, coating, assembling, inspection and packing, and produces various instruments and facilities. It forms the facility's consistent assembly and production line. Metal plate processing line that is an NCT automatic line operating 24 hours a day. Coating line has 2 systems. One is powder coating system and another is solvent
coating system. The assembly system consists of seven main line where the productive capacity of approximately 16,200 pieces a year for the oven and 7,200 a year for the fume hood.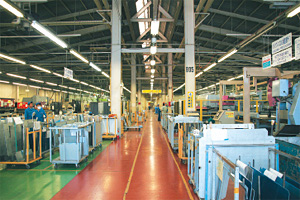 Laboratory equipments are built up by using cell production methods corresponding to the many kinds of small lot production. These production adjustments that we matched with the purchase order process enable us to shorten delivery time and plan adequate stock and supply management.
Furthermore, we have our original system, YPS (Yamato Production System) and rationalize plans and promote efficiency and production activity on every step of the supply management chain from the initial order to the final shipment.
Wide Variety of Industrial Instruments and Plasma Equipment
From the development and design stage, we establish quality control systems according to each process through a DR (Design Review) System, the use of work standardization in assembly lines, inspection and guidance by the supplier, intermediate inspections, and complete inspections after assembly and plan maintenance improvement. At the final inspection, we carry out all quantitative tests on the products: function, (electrical) performance, and safety - all in order to provide only the highest quality goods to our customers.
Production Line Flow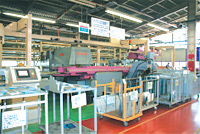 1.

Metal Plate Processing line

Raw material (steel, stainless steel, and aluminum) are consistently processed here to the next process line; punching and cutting by NC (Numerical Control) with an NCT automatic processing system, bending and welding.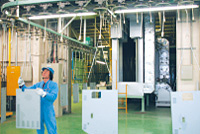 2.

Coating Line

In addition to conventional solvent coating (30 micrometers thick), we also use a powder coating (60 micrometers thick) since January 2007. The performance and line operation, which depends on the products being built, has improved.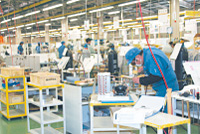 3.

Assembly Line

Depending on order trends, we can cope with mass production in a short time period by being flexible and using cell production methods. Furthermore, we continuously try to improve our line and increase efficiency in any situation possible.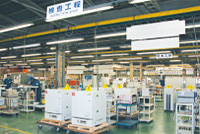 4.

Inspection Line

Final products are reviewed with strict product inspection criteria such as appearance, ground bonding, insulation resistance, and temperature adjustment in order to ensure and maintain the Yamato Brand.
Yamato Scientific Chonqing Co., Ltd: Manufacturing Factory in China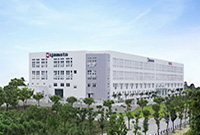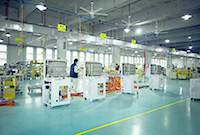 We have started to manufacture general purpose scientific and industrial instruments such as ovens, autoclaves and aging chambers in Chonqing, China since March 2006. There, we have developed an original, high-tech manufacturing system, so we can sufficiently manufacture and establish the high quality Yamato Brand in China.