Greeting
For the development of scientific technologies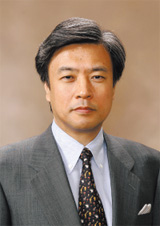 Yamato Scientific Co., Ltd.
President and
Chief Executive
Officer


Satoshi Morikawa
Yamato Scientific was originally founded in 1889 as "Sosuke Morikawa & Company" and focused mainly on the production and sale of medical glass in Nihonbashi, Tokyo. Since then, the company has grown from a provider of exclusively scientific glass to fields of industrial devices as a distributor of many of the newest and most advanced scientific and laboratory instruments available today.
Now Yamato Scientific, as a manufacturer of scientific instruments, research facilities, analytical instruments, industrial inspection devices, and medical equipment, actively develops and broadens our horizons as a business that deals in high-tech instruments that require production technology along with research and development.
From metal plate processing, coating, to assembling, production is in two factories with one in Japan (Minami Alps City) and one in China (Chongqing City). In addition, we have two centers dedicated to Research and Development in Minami Alps City and Aiko-gun in the Kanagawa Prefecture of Japan.
There, we try our best to improve our current products and develop new ones. To be successful in a global economy, we have realized the need to support international standards and expand worldwide procurement. For this reason, we have 18 sales and service offices in Japan as well as subsidiaries in five different areas around the globe, including the US and China. With approximately 200 distributors inside and outside Japan, we are well equipped to handle of a diverse, global mix of customers.
In addition, Yamato Scientific, through Yamato Group Companies, has expanded to provide food containers, new electronic materials, medical equipment and the consumables. We support innovation of research development and production technologies of corporations, universities and research institutes that represent Japan's slogan, "Science Technology Forged Nation" and "Productive Country". Our basic business policy is to contribute to the progress and the development of science technology by combining our know-how and experience accumulated over 125-year long history.
Please continuously give us your opinions and guidance, so that we will provide our best for you.